KRC LSU WBB Bayou Barbie Angel Reese
We are excited to bring this young lady into our pack, she has a wonderful pedigree and ears to die for . . she will make a great addition to the group! Stay tuned and watch this one grow! She was born during the basketball March madness, so the theme for her litter involved basketball - we felt the women needed to be represented and we went with Angel Reese, the 6'3" forward out of LSU, who helped win it for the team! Reese moved into our kennel on May 8th, 2023 and experienced a horrible hail storm, which she slept through her first night - she shows no fear - what a girl she is!
We will have all of her health clearances performed as she becomes of age.
Microchip # 900235000124569
AKC# HP67427103
DNA# AKC Profile #V10075204
DM# 404995  (Test Score A - negative for degenerative myelopathy)
Hips/Elbows
Patella
Thyroid
Cardiac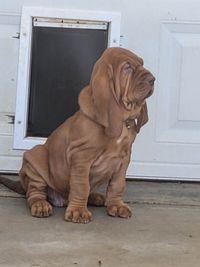 Flessner's International Grand Ville

GCHB CH Flessner's International Harvester

CH Bacchus Du Noble Limier

Ch Jo-Li's Uncommon Treasure

Edenhill's The Grand Wazoo

CH Flessner's Royal Flush At Edenhill

Yazoo-Zdenek V .D. Oude Waterloren

Arrowheads' Camo N Ammo Mercy

Napoleon De La Feaignerie

Marshall De La Meute D'Antan

Henriette Artemise D'Aumencourt

Sanford's Dixieland Delight