AKC Reunite & Bred with H.E.A.R.T. AKC Program
 We are dedicated to the cause of responsible pet care. As part of our commitment all of our puppies will go home with lifetime lost pet protection, microchip registration, behavior and training education, and toll free behavior consultation helpline powered by AKC ReUnite and AKC Registration, Ownership Protection, Health Protection and more powered by the American Kennel Club. These offers would typically cost $482 if purchased directly but all puppies sold by Cyclone Ridge Kennels will come microchipped and these programs will be transferred to you upon adoption of your new puppy.  
How does it work?


1. You will receive a confirmation email  and phone call from AKC Reunite containing the information necessary to access your pet's account online.  Please login and update your puppy's name and photo. Take the time to keep this info updated.


4. Should your pet ever go missing, you can report your pet missing via your secure online account or you can contact the petkey emergency support team 24/7 at 800-252-7894. They will collect the details on where your pet was last seen and an alert will be issued to pet professionals in the surrounding area. Your pet's microchip will also be flagged as missing.

 
Bred With H.E.A.R.T. Program (AKC)
This is a new program with AKC and we were asked to become part of it. It is meant to improve the health and well-being of purebred dogs with breeders like we are, we have made a commitment to breeding better dogs through education and health testing.


HEALTH

Certifying that our breeding stock is health tested in accordance with the recommendations of our breed's National Breed Club.

EDUCATION

Promising that we will pursue AKC provided or AKC approved continuing breeder education so that we can stay educated on the best breeding practices, including advances in canine health.

ACCOUNTABILITY

We agree to comply with the AKC Care and Conditions Policy, including inspections by AKC, and promise to share with AKC health testing and continuing education documentation.

RESPONSIBILITY

We accept responsibility for the health and well-being of the puppies we produce and for complying with all laws regarding the ownership and maintenance of dogs.

TRADITION

Uphold the AKC's tradition of breeding purebred dogs that are happy and healthy.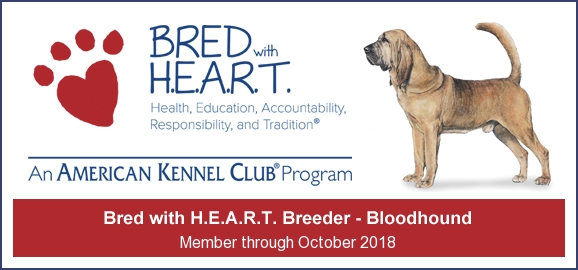 You are visitor number: 70116