Missouri Dept of Ag and USDA
We felt it very important to do everything the right way ... from purchasing our puppies with a plan in mind and hopefully from the right breeder, to providing them with the most modern kennel facility that we could build including central heat and air, to training and most of all ... all the love and undivided attention we can provide them!  We have taken things one step further by making sure that we ARE licensed with the State of Missouri and are inspected each year, so we will never be considered something that we are not (a puppy mill)! We always have passed our inspections with flying colors! In fact upon the recommendation of our inspector, we have become 1 of only 7 Blue Ribbon Kennels in the state ... we feel this is a great honor!  As our inspectors have noted on their reports. ." We easily exceed the Blue Ribbon Kennel standards and serve as a model for others in the industry!" We plan to continue on this path with both our hounds and our building.
You may have already checked with the state and see that we are classified as a "commercial" breeder - that is due to the way the Missouri Statues apply to us - we do not show or compete with our hounds so we are not under the hobby breeder. Please rest assured we are NOT a "broker", we carefully look into those that are wanting to purchase our offspring with a questionnaire and phone calls - we sell and will continue to sell only to families and law enforcement . . now we have rehomed one of our gals with a priest who renamed her from Emalee to Bobby as he had never had a female in his home before!

You can contact the Missouri Dept of Agriculture for information on any of our inspections, both regular or Blue Ribbon!  

For references from the inspectors themselves (www.mda.mo.gov) or 573-751-4211. The Blue Ribbon info can be found on the next tab.
Blue Ribbon Program
What is the Blue Ribbon Breeder Program?
 
The Blue Ribbon Breeder Program is a premium puppy program designed to recognize Missouri's elite kennels.  Blue Ribbon Kennels exhibit excellent breeder management practices, demonstrate a commitment to their industry through participation in continuing education opportunities and have been certified by the Missouri Department of Agriculture's Animal Care Facilities (ACFA).
What requirements do Blue Ribbon Breeders meet?
Missouri's Blue Ribbon Breeders are required to meet higher standards than any other kennels in the state. Currently there are only 7 that have passed the inspection and we are very proud to say that we are number 8 and are the first "Large Dog Kennel" to become a Blue Ribbon Kennel!  Blue Ribbon Kennels must pass a Blue Ribbon Kennel inspection in addition to their state inspection as week as maintain a bio-security and maintenance plan and every puppy must be micro-chip before they are sold.
Are other states implementing a Blue Ribbon Breeder Program?
 
Currently, NO other state has a program similar to Missouri's and Missouri is the first state to offer a quality assurance program dedicated to providing healthy, happy puppies to families across the United States.
Additional Information
For inspection reports and license info
MO Dept of Agriculture
Animal Health Division
animal.health.mda.mo.gov
573-751-3377
Missouri Canine Brucellosis-Free Program
Once again, we wanted to be pro-active in the prevention  of Canine Brucellosis.  We  contacted the Missouri Dept. of Agriculture and inquired about their new Canine Brucellosis-Free Program in early 2014 and have been part of it since. You may not know much about this or are thinking, this is a cattle disease but it is not and can be transferred to humans ... yes humans ... it is hard to diagnose so it goes unreported! 

As a dog breeder, we are responsible for the welfare of our dogs. It includes protecting their health and make sure they are free of contagious diseases like this one. Brucellosis is an infectious disease caused by bacteria that live mainly inside the cells of reproductive organs. There are various types of it - found throughout the United States - that can infect dogs, pigs, cattle, deer, elk, sheep, goats and other mammals. As mentioned previously, humans can become infected by all of types, including the one associated with dogs. Puppies born from infected mothers are often infected. This is a serious problem, since these animals may go into homes with children and others vulnerable to disease. Because the bacteria live inside cells, there is NO CURE for brucellosis in dogs.  Even after months of antibiotic treatment, dogs can remain infected and spread the disease to other dogs and people. Prevention is key - which is why we practice good biosecurity and TEST all our dogs with a blood test annually. In 2018, after talking with our state inspector and the state vet along with our own personal vet, we decided to continue to be a "closed" kennel but since our dogs never leave our property nor do we allow outside dogs in, unless we see an issue, we will not be drawing blood annually for testing.

Canine brucellosis can be spread by direct contact with tissues or fluids from infected dogs.  These include, among others:  saliva, blood, urine, feces, vaginal discharge, semen, milk or an aborted fetus.  The disease can also spread in aerosolized form, such as when high - pressure sprayers are used to clean kennels or when contaminated dust and dirt is inhaled.

So when we refuse to let you into our actual kennel ... don't be offended ... we are only trying to protect our hounds.

All of hounds are shown to be Negative for this disease, are tested via blood tests each year that are submitted to the State of Missouri. We also are considered a Closed Kennel - meaning we do not allow any outside dogs to come onto our property or near/in our kennel and we will not ever use our males as studs.
United States Dept of Agriculture Animal Welfare Act

In September 2013, the Animal and Plant Health Inspection Service (APHIS) announced it was revising the definition of retail pet store under the Animal Welfare Act (AWA) to ensure breeders and internet-based businesses selling pet animals sight unseen to buyers, provide their animals with humane care and treatment and see licensed and inspected by APHIS.  If you sell dogs that are born and raised on your premises where buyers can physically observe the animals before or during purchase, you don't need a USDA license but if you do any internet selling where the buyer doesn't see the dogs, you may fall under this new regulation and need a license - it is a fine line and seems to be changing yearly!  Currently if you have 5 or more breeding females, you are required to have a license.

We attended a state meeting in 2015 and met with the USDA inspectors, asking several questions to find out if we should apply for the license with them as we have several females but not all old enough to be bred along with we don't sell to pet stores or brokers and we do some internet sells where the owners can't get here personally to view their puppy while others do make the trip - how confusing all of this was to us!  We were told that right now, we did not need to be licensed with them but may need to in the future - we always choose to be proactive with all that we do, so we chose to go ahead with the licensing procedure and inspection.

Our regional inspector, Curt, came out on May 11th, 2015 -  reviewed what was now required of us (we found that we were exceeding the standards by far), toured our kennel and checked our hounds finding nothing that was not in compliance with the USDA.  We are now officially licensed with them and our USDA
license # 333135, it is renewed annually. With the onset of Covid 19, there were no inspections in 2020, but we were graced by a new inspector in June 2021, Dr. Harvey Kent and passed with flying colors - he talked about the upcoming new regulations and felt that we were already complying with them all.
Please feel free to contact them for copies of all inspections - USDA.

 
Awards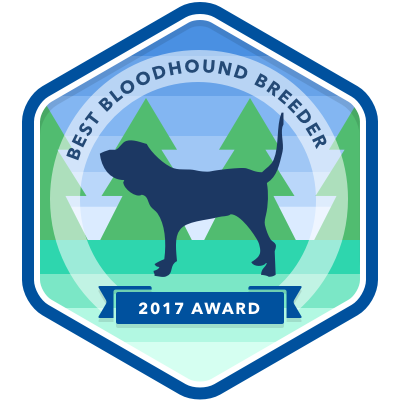 On behalf of Vetary.com, I want to congratulate you on the Best Bloodhound Breeder Award.
Vetary has analyzed top Bloodhound breeders and cross referenced positive social mention data with top analytics platforms. Your site was a clear winner with U.S. pet owners over the last 12 months. For context, Vetary awards breeders with best-in-class online buzz, content, visuals, and most importantly, a strong cause and devotion toward their breed of dogs.
Again, congratulations from the Vetary team!
Best,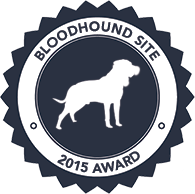 On behalf of Vetary.com, I want to congratulate you on the Best Bloodhound Site of 2015 Award!
Vetary has analyzed thousands of sites and cross referenced visit data with top Bloodhound platforms. Your site was a clear winner with U.S. pet owners over the last 12 months. Vetary awards sites with best-in-class content, visuals, and most importantly, a strong cause and devotion toward Bloodhounds.
You are visitor number: 72260