HHC'S Waitin' For My Friends In Low Places, Hank
Hank  was born April 23rd of 2023 in South Carolina out of Zuri and Spiller - mom is a liver nose red and dad is a full coat black/tan! We are hoping he will grow into a huge fella and produce a rainbow of colors for us.  He is considered a traditional red bloodhound and we are excited to see what he will bring to the pack.
AKC # 67732901
DNA # AKC DNA Profile # V10106467
DM  Gensol # 436248 B (Carrier but not affected)
All  OFA testing will be done as he becomes of age.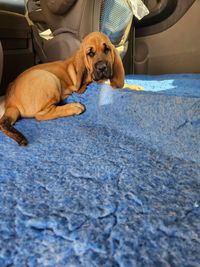 Better Hands Sargent Willie Wonka

Teoc's Cooper Shug Be Humble

Tills Bloodhound Hill Rocketman Jones

Teoc's Cooper Shug Be Humble