Teoc's International Allis Chalmers
Ms. Allis was born on January 10th, 2021 and is just an awesome girl at 10 weeks of age . . focus is great, already knows her name and the happiest girl ever. Another wonderful hound out of Teoc's Bloodhounds!
Health Clearances
We will have all the required OFA testing performed on our girl as she becomes old enough  - she was lucky enough to become part of a special program that OFA offered for bloodhounds ,so we were able to get her hips and elbows tested at 1 year and found that they were good enough to move forward with breeding - we will do the official testing at 2 years.
OFA - CHIC DNA REPOSITORY  BL-DNA-126/B
DNA  AKC DNA Profile #V963230
DM - OFA #BL-DM568/2F-NOPI-CAR  
Thyroid - OFA #Bl-TH166/26F-VPI   Normal
Cardiac - OFA #Bl-BCA78/26F/P-VPI   Normal/Clear - Practitioner
Patellar Luxation - OFA #Bl-PA179/26F/P-VPI    Normal - Practitioner
Hips -  OFA Report #2225619  (Mild HIp Dysplasia (unilateral pathology left)
Elbows - OFA Report  #2225619 (Negative for Elbow Dysplasia Right Side    Grade 1 on Left Side)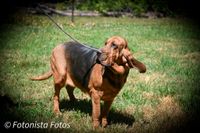 Flessner's International Grand Ville

GCHB CH Flessner's International Harvester

CH Bacchus Du Noble Limier

Ch Jo-Li's Uncommon Treasure

Edenhill's The Grand Wazoo

CH Flessner's Royal Flush At Edenhill

Yazoo-Zdenek V .D. Oude Waterloren

Teoc's Jasmine Blooming Blackjack

Diablo Lamborghini Od Hadiho Potoka

Yazoo-Zdenek V.D. Oude Waterloren

Teoc's Morgan Bring It On

Tills Bloodhound Hill Rocketman Jones

CH Boxford's Angus of Bloodhound Hill